Imagine building your own little home on wheels for about a year, now what would be the most sensible way to say goodbye to it? Polish it to perfection and fetch a good price for it? Or rattle it to pieces on one of the worst roads Australia has to offer?

Both? Both.
Maybe not in the order I've just outlined. I've seen a fair bit of the country during the last year, but haven't set a foot into the western part of it yet. And while almost all of it is stunningly beautiful, Western Australia supposedly holds the crown in that regard. While I enjoy white beaches and baby blue water as much as anyone else, I was more amazed by the stories of the people who had taken their SUVs and Pickups for a bit more of a challenge than just soft sand. The Gibb River Road.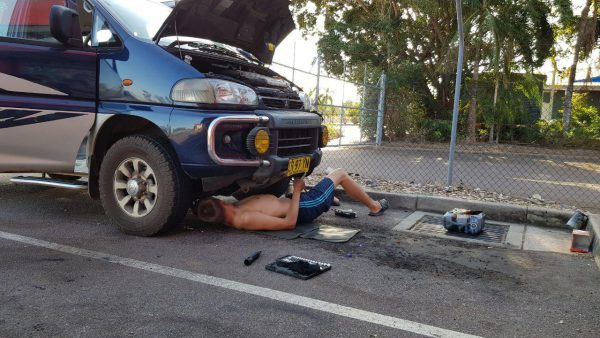 So, what would you do on the prospect of a whopping 1000 kilometres of dust, corrugation and poky stones? While others struggled to complete the former stock route with their dedicated monster trucks, I've just got a unicorn of a 4×4 campervan mainly fixed up by my rookie hands. So, apart from doing a general safety check, fitting a solar panel, loading the back with supplies and doing the good ol' aussie streetside oil change, I might have felt a bit underprepared at the time.
If you've ever got doubts in what you're doing, get some people to back you up. Fueled by growing paranoia that I might just get stranded in the middle of nowhere with my ramshackle van, I didn't just invite my dad over to join me for a holiday he'll never forget, we also joined a group of ten other backpackers who obviously weren't very intrigued to have an old man and my not-as-offroad-as-their-offroaders-offroader to hold them up.
Or that's what they thought for the first days.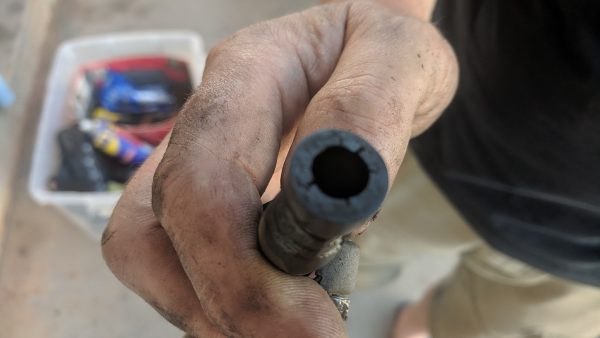 Off to a great start, my van decided that it had earned some attention again.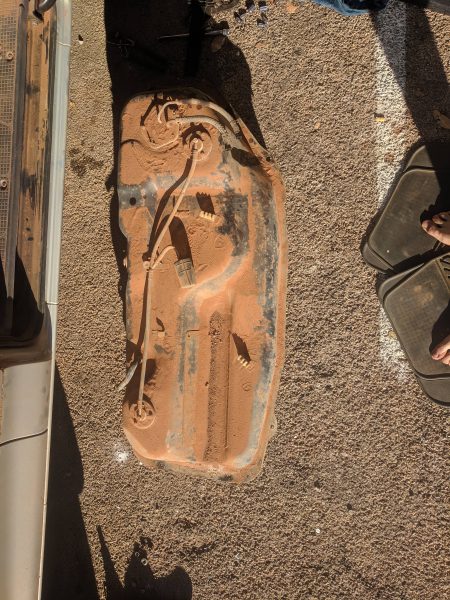 Sure enough, we started struggling with fuel starvation and spent our days on the parking lot…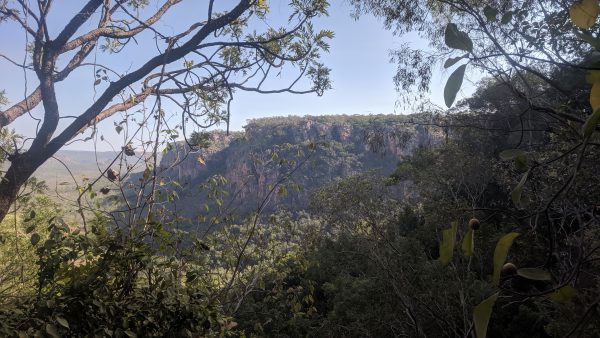 …while the rest was hiking the ridges of Kakadu National Park. Well, at that point not even we thought we would ever see just the start of the notorious Gibb River Road. But after replacing the fuel filter and every single fuel line from the tank up to the injector pump we were finally good to go.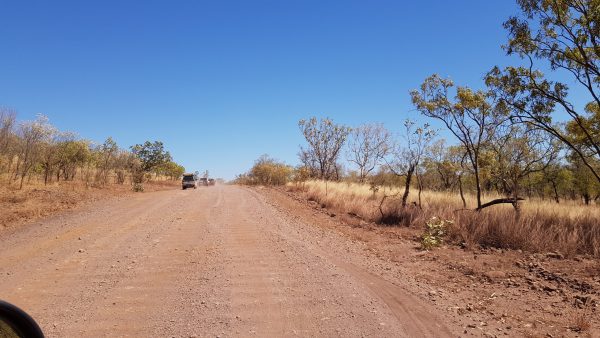 While we caught up and started to enjoy the trip, others, well… stopped doing that.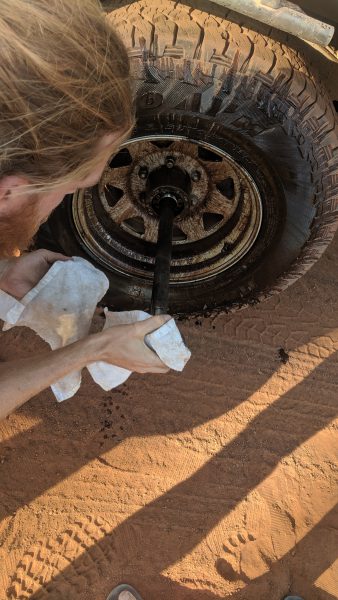 The propshaft of our buddy's Land Cruiser was held in place by six bolts and he even noticed that the first one was gone on one of our stops. Sadly, his reaction was to think that the remaining bolts would be able to bear the load on the teeth-shattering corrugation we were traversing, and just a few kilometres later he was proven wrong. Since the differential had no resistance on one wheelside, it would spin freely and overheat without moving the car an inch forward. We proposed to engage the diff lock and continue slowly, but the he didn't want to take risks and got himself towed by another member of our group over 100kms to the next place that called itself a workshop. Naturally they didn't have the correct bolts in store and the mechanic suggested the same thing we did before: engage the diff lock and limp onward. From that point on, we surely weren't the slowest guys anymore and started earning our place by keeping the convoy rolling while others cooked or planned the route.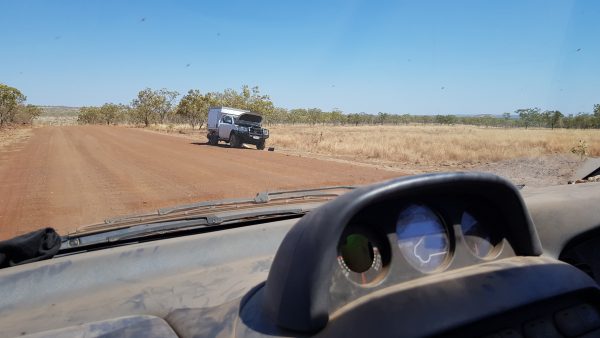 Seeing brand new 4x4s broken down on the roadside doesn't exactly inspire confidence…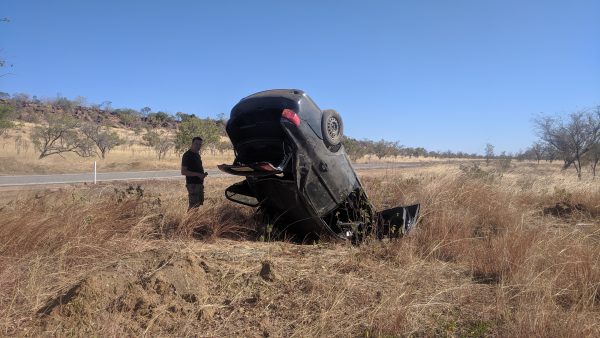 While the others slowly came to grasp with what they had signed up for, we were enjoying the sight of impressively crashed cars just as much as the stunning views of waterfalls and gorges.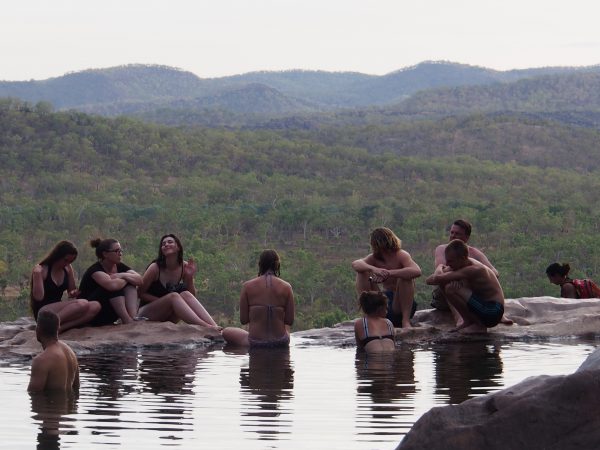 I mean, it's quite a spot for sunset, huh?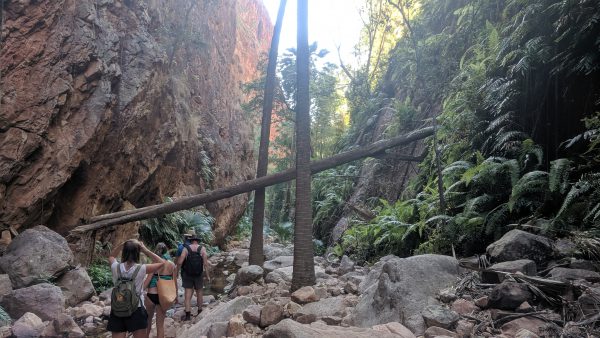 Since there weren't any settlements around for days at a time, the only bath we would get was to be found at the deep plunge pools of the dried up waterfalls. Those are usually at least an hour of hiking through a rough riverbed away from the road, but the views and finally getting all that grime off your skin surely made it worth the trip.
The terrain was just as taxing to walk as it was for the cars. Luckily, I made it a habit to take a look around the van every morning to confirm that no screw was loose or missing…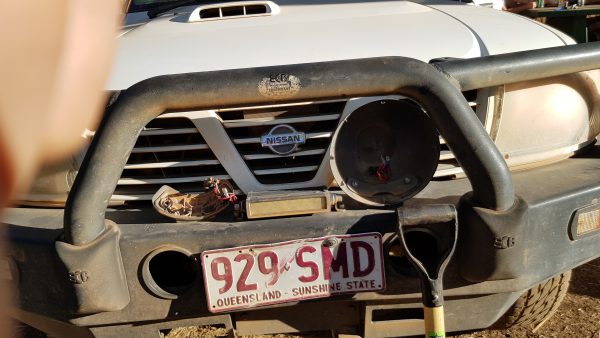 …my van would probably have lost a good chunk of parts like our travelmates' car here. From lost bashplates and pierced brake lines to disintegrating mufflers, the Gibb was taking its toll.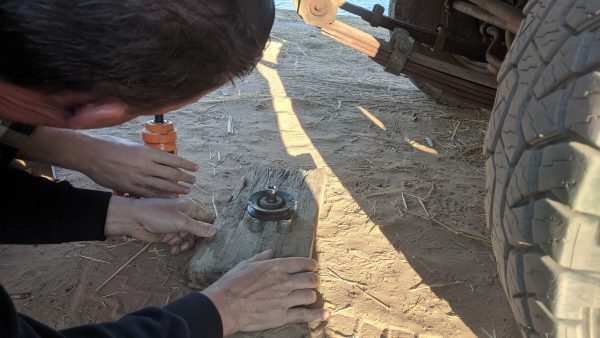 Ever pressed out a seized pulley bearing on the river bank of a croc infested river? At least it's calming to see that even the best workshop equipment can be replaced by a mix of ingenuity, anger and beer.
Corrugation is best driven walking pace or full throttle, everything else inbetween shakes your guts to bits. That being said, full throttle is the most popular choice, and the lack of grip ensures plenty of wreckages along the roadside. We decided to have a pause every hour so the drivers could un-cramp their fingers, that way tyres and suspension were allowed to cool a little too. It appears to me that most tyres on the Gibb are not destroyed by puncture but by overheating. The way we moved we didn't have a single broken tyre between four cars, while others had warned us that they had popped up to three on a single car on their journey.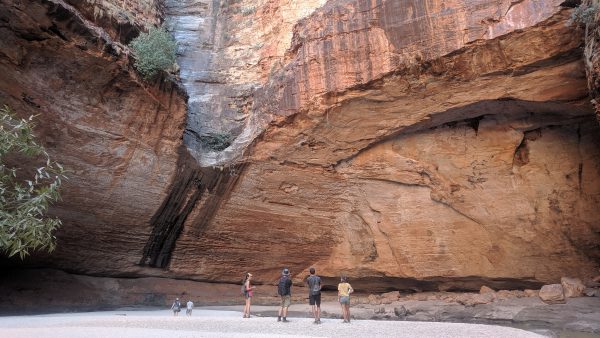 It feels a bit awkward to realize that right at the spot where you are standing, there will be savage currents tearing everything down the canyon in just a few months time.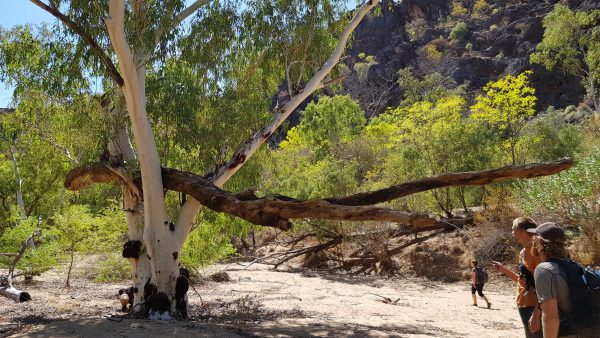 Honestly, I wouldn't want to go rafting where there's full size trees impaled in other trees.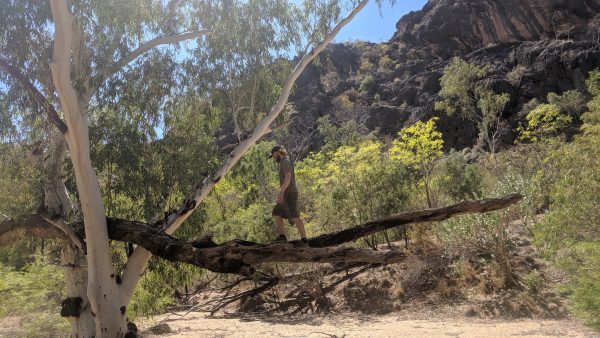 Only two of four cars had a snorkel fitted to be able to tackle the few deep crossings on the sidetracks, so we had to cram a few more people into onto the remaining ones.
Just a tad bit bumpy up here.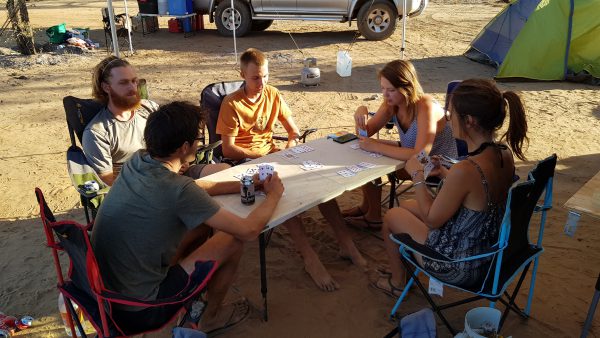 The pleasant absence of mobile reception meant evenings filled with cards, sharades and campfires instead of everyone keeping to themselves and staring holes into their phone until bedtime.
Why take the bridge when you have the chance to get yourself stuck in the riverbed?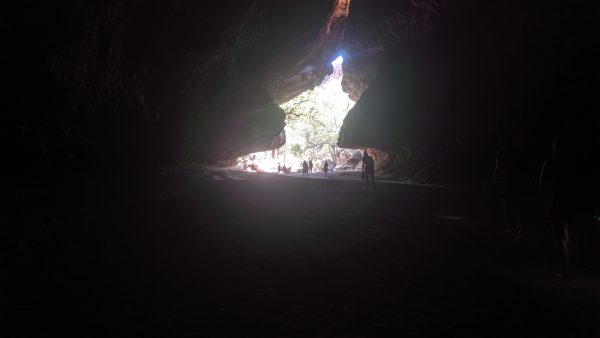 Tunnel Creek was the highlight and the last place we would visit together. The tunnel is completely submerged during summer, even during the height of dry season we got our feet wet to see the end of it.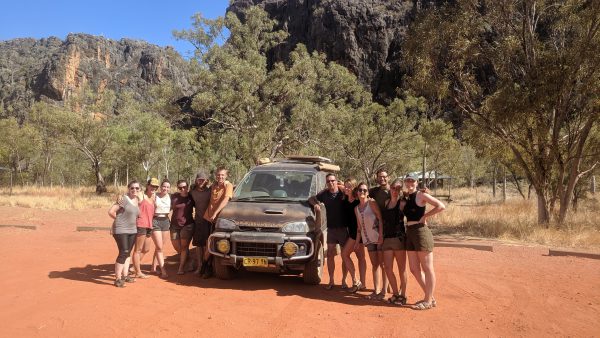 Keeping twelve people and their different interests in check is quite a challenge. We managed to keep it up for three weeks, from then on we decided to split up as some wanted to take a detour, we however were less keen on even more gorges in exchange for driving the original Gibb River Road until the end.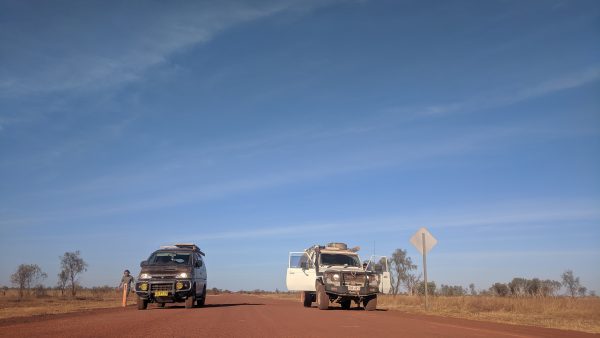 The end of corrugation.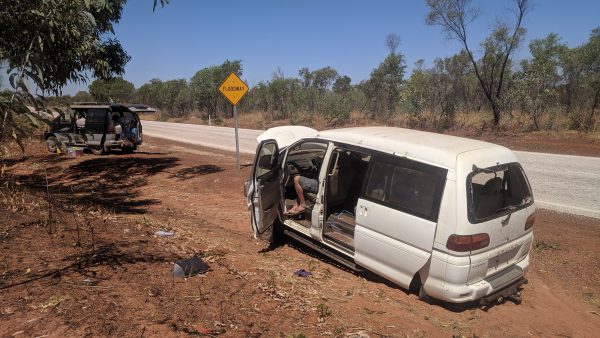 Just fifty kilometres after the start of sealed road, we stumbled upon a wrecked Delica.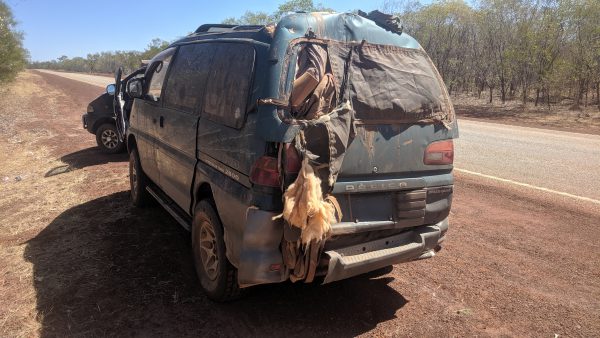 And believe it or not, thirty kilometres later another one. I've traveled through all of australia for ten months at this point and didn't ever see a single wrecked van of my type. The license plates had been removed by the former owners to avoid prosecution for deposing of a vehicle in public space, getting it towed from a remote location like this one would probably cost as much as a new car. If it was a more popular model like a Pajero or Land Cruiser it wouldn't have survived long without being stripped by aboriginal salvage crews and torched for fun by some bored bogans afterwards.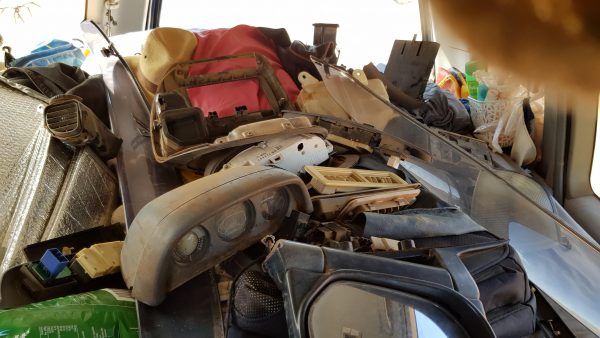 Given the circumstances it doesn't exactly feel like doing a bad thing to give some of the parts a second life to touch up the battered interior of my van. After the toll the Gibb had taken I had already made my peace with the thought of selling the remains of my van to a wrecker, but finding those two cars got my hopes up again.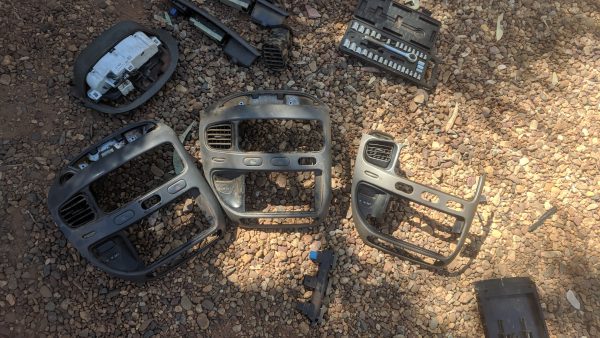 After spending a few days in Broome to puzzle together the best pieces and sinking bags of coins into the wash box, I dropped off my dad at the airport and replaced him with one of the girls from one of the other cars.
Done were the days of the dusty roads, with exception of one national park we stuck to the coast all the way down to Perth where I would finish my journey.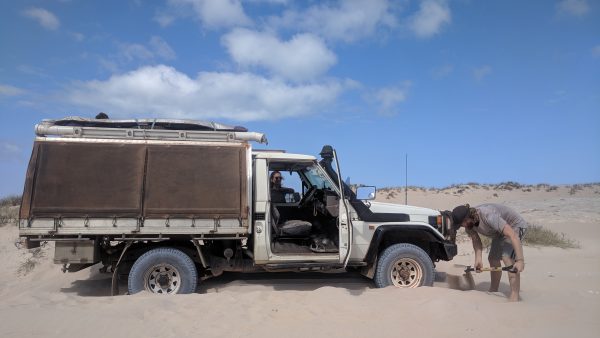 Even with his freshly repaired drive train, my travelmate still managed to get himself stuck alarmingly often.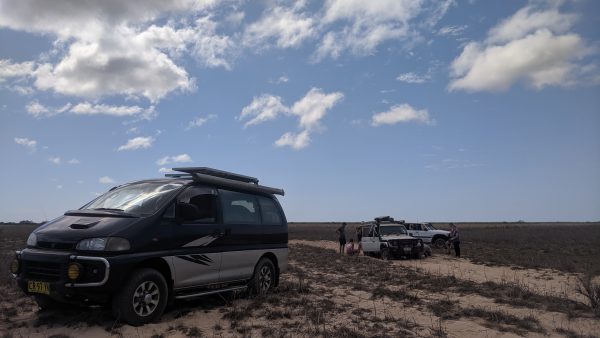 Sadly he didn't give me the satisfaction of pulling him out.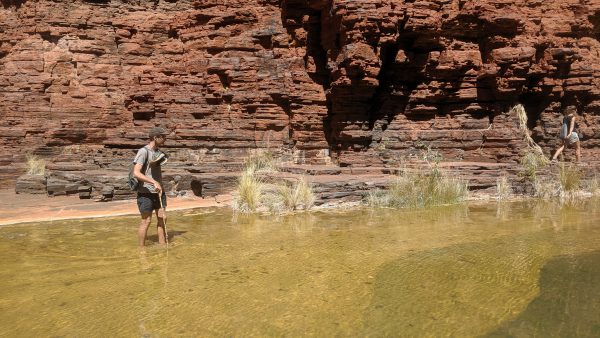 A few more days of wandering, climbing and playing cards in the flickering light of the campfire followed, but eventually it was time to say goodbye.
My last month will probably just consist of vegetating in the suburbs of Perth, getting the car ready for roadworthiness and sale so I can finally say my goodbyes to this continent, which isn't exactly material for another blogpost.
I hope you enjoyed following my small adventure over the last year, maybe I'll be back another day to scramble through another forgotten backyard of the world, but for now I'm stoked to watch the snow settle outside a nice cozy flat with bathroom, dishwasher and all the amenities of a non-nomadic life.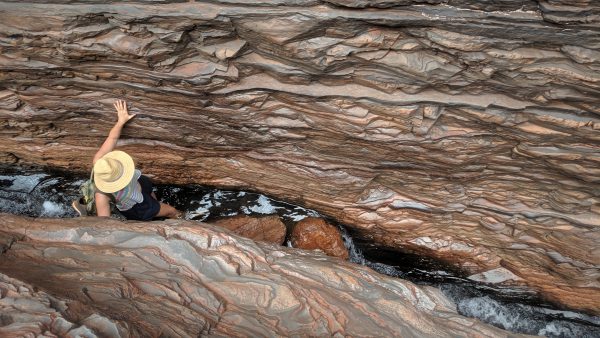 I have been travelling on my own for most of my time in Oz, and while I enjoyed almost every moment of traveling in a group, I wouldn't want to miss going my own way and encourage everyone to at least consider to do so, too. Being left alone with your stupid ideas doesn't scare people without reason, but in the end it's probably the best way to get to know yourself.
As long as you're not getting caught or seriously hurt it can't be that bad.